3 Things We Learned About the 2019 Mercedes-AMG GT R Roadster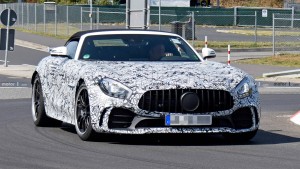 Mercedes-AMG is finally making a top-down version of the GT R—following the footsteps of the GT C version and the GT S Roadster. There have been rumors that the Germans are planning a top-down version of the Mercedes-AMG GT R, and now, it looks like they are coming true.
Spy shots of the 2019 Mercedes-AMG GT R Roadster have been leaked as the car made its first testing session.
1. Exterior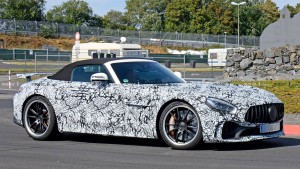 The GT R Roadster will be similar to the coupe version from the waist down. The AMG grille with chromed out vertical slats and big Mercedes emblem are very recognizable even through the camouflaged photos.
The big difference will be with what happens from the waist up. There will be a soft top, of course, as well as modifications at the rear deck. The windshield will be shorter and fully framed, there will be no rear quarter glass, and there will be roll bars behind the seats for safety purposes.
2. Interior
The interior of the GT R Roadster will be identical to the coupe, except for the unlimited headroom during open-air drives and the roll bars behind the rear seats. There will be two, manually-adjustable bucket racing seats with AMG lettering and contrasting seatbelts, flat-bottom steering wheel, and a digital instrument cluster. All of these are wrapped with Nappa leather and Dinamica microfiber treatment. There will also be a large infotainment display at the center of the stack.
3. Drivetrain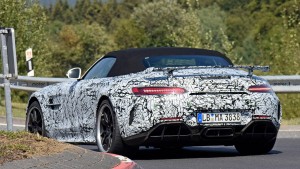 The GT R Roadster will have a similar powertrain as the coupe version, except that its 4.0-liter Biturbo V8 engine will make 577 horsepower and 516 pound-feet of torque. That's an increase of 74 ponies and 35 pound-feet of torque over the same engine in the GT S. The Roadster will be a bit slower in reaching the 60-mph sprint by 0.1 seconds. The coupe can reach this by 3.5 seconds while the GT R Roadster will likely take 3.6 seconds. The top speed is estimated to be at 198 mph.