3 Things We Learned From Seeing The Spy Shots Of 2019 Hyundai i40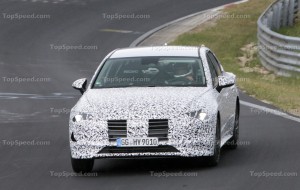 Spy shots of the Hyundai i40 were taken and we've got the lowdown on what we can expect from the South Korean automaker's midsized, Europe-facing sedan.
Exterior
When we said there were spy shots, it means that Hyundai did a very thorough job at covering the new i40. The images from TopSpeed show the car wrapped in heavy camouflage, so there's no way to tell the tiny little details that make the reveals of car exciting. We can see the body style, of course, and we know it's going to be a sedan with some fastback hints to it. A part of the front grille was revealed, too, featuring thin horizontal bars, though we're pretty sure these are just placeholders for now.
The headlights gave us a little peek, but it doesn't look like it's similar to past models. This could be a completely new set of lights as it doesn't even resemble the pair we saw on the i40 wagon spotted testing last month.
Interior
We could not see the i40's interior, but we believe that there won't be any dramatic changes from the cabin we saw in the i30. We know they came from completely different segments, but there are enough similarities to justify their cabins looking the same.
If there will be a change, it's going to be the layout since the vertical layout from the latest model is outdated. The i40 should have the same horizontal layout as the i30 with the center console touchscreen located high on the dashboard. The infotainment controls should surround the screen, making it look sleeker and slimmer.
Seating configuration would probably be the same, though we hope that Hyundai fits the i40 with new seats—preferably, something more premium and comfortable than the old one.
Drivetrain
The new i40 won't be a next-generation model, so it will have the same lineup of engines. It should have quite a number of different engine options. Currently, it offers a 1.6-liter four-cylinder gas engine that produces 133 horsepower, a 2.0-liter four-cylinder that makes either 164 horsepower or 150 horsepower, and a high-spec 2.0-liter gas engine that can churn out 176 horsepower or 162 horsepower.
For the diesel, the i40 should have the same 1.7-liter four-cylinder engine with three different power outputs: 113 horsepower, 137 horsepower, and 139 horsepower.