3 Things We Learned From The 2020 Audi Q3 Spy Shots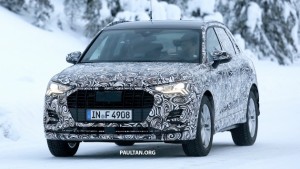 Audi is working on its next-generation Q3 crossover, we all know that, but these spy shots revealed where in the development process is Audi right now. Well, it looks like everything is on schedule and we'll see the next-generation Q3 as a 2020 model this 2019 in distributors' showrooms.
1. No Surprises In Q3's Exterior
There are no surprises in the design of Audi's compact crossover SUV, the spy shots revealed. Based on the images, the next-generation Q3 will resemble a scaled-down version of the latest Q5, though this one will have a more dynamically proportioned body. To further highlight the difference, the current-generation Q3 was seen on the road together with the upcoming Q3.
The crossover SUV will use the same and familiar MQB platform design used by the VW Group in almost all of its compact cars and non-premium midsize models.
2. Plug-in Hybrid A Possibility
The new-generation Q3 will be powered by turbocharged inline-4 engines, but there is also a possibility of seeing a plug-in hybrid option. Expectations are high, too, that Audi will have the same RS Q3 in the works. With 400 horsepower from a 2.5-liter turbocharged inline-5, there should be no question that this one would be a favorite.
The good news? Audi Sport might offer the RQ3 in the United States market this time around. Remember, the US market has been adamant it wants the same preference that Audi has for the European market.
3. Electric-Powered Cars In The Pipeline
The redesigned Q3 is just one of the five new SUVs that Audi is working on. There are others in the horizon, such as the electronic e-tron and e-tron Sportback models, as well as the coupe-like Q4 and Q8. There are also rumors that Audi is working on a Q1 subcompact SUV based on the next-generation A1.