3 Things We Noticed About The Subpar 2017 Toyota Prius C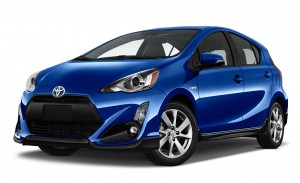 Whatever changes Toyota has been bragging about the 2017 Toyota Prius C cannot change the fact that it's a subpar gas-electric vehicle. The same powertrain will produce the same speed and reaction time, and that was the major contention on the previous generation of the Prius C.
And although it is priced much lower than its competition—Chevrolet Volt ($34,095 – $38,445), Toyota Prius Prime ($27,965 – $33,965), and Toyota Prius ($25,550 – $30,880)—the changes on the 2017 Prius C remains to be too minimal.
1. Safety Features
In the previous generation, safety features are an option. That changed with the 2017 Prius C line because safety equipment is now packed as standard features on the vehicles. Named the Toyota Safety Sense-C moniker, the standard safety items are: forward-collision warning with automated emergency braking, lane-departure warning, and automatic high-beam headlights.
2. Powertrain
As mentioned above, the powertrain will remain the same 1.5-liter four-cylinder engine with a two AC motor/generators. Combined together, they can produce a paltry 99 horsepower that enables the Prius C to go 0 to 60mph in a lengthy 10.9 seconds.
The larger generator is provides the propulsion that generates electricity during deceleration while the smaller AC unit power the wheels with electric-controlled drive ratios (electronic CVT).
3. EPA Ratings
If you're looking for better EPA ratings for the Prius C, sad to say that's not going to happen. Compared with the 2016 EPA ratings, the 2017 Prius C dropped by 5 mpg around town and 3 mpg on the freeway. It now has a 48 mpg city and 43 mpg highway ratings.
The truth is, this might not be about the mechanical differences in the two generations. EPA now has a tougher fuel-economy testing guidelines. Compared with the regular Prius with 54 mpg city and 50 mpg highway, the Prius C's EPA ratings are clearly lacking.
Photos
Check out some of the official photos of the 2017 Toyota Prius C in the gallery below: