3 Things We Noticed In The 2019 Kia Proceed GT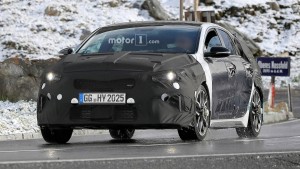 The five-door 2019 Kia Proceed GT was just spotted in the open, and we now have a pretty clear idea of how the fastback is going to look like once it's revealed at the 2018 Paris Motor Show in October.
To be clear, Kia hasn't exactly confirmed when the release will be, but all signals point to the Paris Auto Show.
Exterior
The spy shots of Motor1 show the upcoming Proceed GT with a covered front section, doors, and rear section. But thanks to a bit of wild imagining, we got a pretty good idea of how the auto is going to look like without all that wrap.
The front grille will be the traditional Kia grille, though with the "GT" badge on it. The headlamps are the same as the regular Ceed, and the side air intakes, huge alloy wheels, and red brake calipers all point to a car with serious sporting credentials.
The Proceed is very much a fastback, thanks to the sweeping roof that extends to the rear section. There are large taillights at the rear, including a pair of exhaust tips on opposite ends of the sedan.
Interior
We didn't get many snaps of the Proceed's interior, but let's just say that it will be similar to the concept, which had a 50s-inspired, retro-style cabin. The concept had Kia changing the color of the instrument cluster depending on the driving mode. It also had a carbon fiber spine that runs up to the front seat. We don't know if these are exactly what we'd come to expect from Kia, but this or a more traditional cabin will be more than enough for fans.
Powertrain
Kia said that the Proceed GT will get a 1.6-liter four-cylinder turbo engine that can deliver around 200 horsepower.
This figure could change as production day nears, but it's doubtful that the South Korean automaker would bring more power to the Proceed GT. If it will, the five-door fastback will officially step on the Stinger's toes. The Stinger has a 2.0-liter engine that produces 255 ponies.