Things We Saw In The 2018 Suzuki Jimny Leaks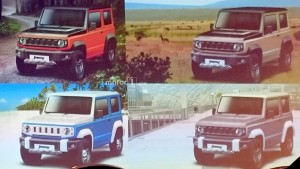 To say that the Suzuki Jimny is so doggone cute is an understatement. If you want the "look" of a Jeep Wrangler but don't have the cash for it, the Jimny is your next best thing. It's affordable, but it managed to perform well and look good as well (though the last one is debatable).
Do you know that Mercedes-Benz wants to have a mini version of its G-Class? However, they still don't have it, probably because it's too expensive to make. Well, it looks like Suzuki not only has the same thing in mind, they actually outperformed the German brand by releasing the model.
G-Class Lookalike
Don't fret. The Japanese automaker's upgrade of the Jimny is every inch a Mercedes-Benz G-Class, minus the badge, of course. Mercedes fans will be happy to know that Suzuki didn't exactly copy what the G-Class looks like. If you already saw the previous generation Jimny, you know that this particular model is influenced by the Japanese brand. It has boxy lines and round headlights—features that belong to the original Jimny.
Oh, just before you begin to question it, the Jimny predates the G-Class.
Nothing Extraordinary
There is no official information yet on what the new Jimny will come packing with. In previous generations, Suzuki's subcompact SUV rode on a body-on-frame platform. If the leaks are reliable, this is what we'll probably find in the new generation, as well as the choice of either 2- or 4-wheel-drive. Experts believe that Suzuki will delve into the 1.4-liter turbocharged engine for the Jimny. This is the same engine that debuted in the 2018 Suzuki Swift Sport.
The engine can produce 140 horsepower and 170 pound-feet of torque.
Mark Your Calendar
The October 2017 Tokyo Motor Show looks to be the perfect opportunity for Suzuki to introduce its new Jimny. But US residents may not be able to take a glimpse of the new Jimny. Remember Suzuki exited the US market back in 2012?