3 Things We Should Expect From The 2019 Volkswagen T-Roc GTI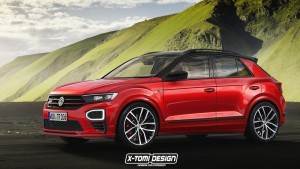 Rendering of the Volkswagen T-Roc GTI by X-Tomi Design.
It's rare to see an automaker come up with a performance version of a compact crossover SUV. It's unusual in this certain segment, but Volkswagen may like the challenge of this idea. The T-Roc was launched in 2017, becoming the smallest crossover in VW's lineup.
With the likes of the Nissan Juke, Toyota C-HR, and Renault Captur. A beefed-up version of the T-Roc was spotted testing on public roads, and it confirmed suspicions that VW is gearing to create a whole new market for performance-oriented compact crossovers.
1. Exterior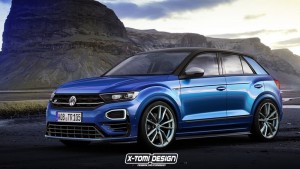 The T-Roc R-Line has a sporty appearance, so we think that the GTI will be loosely based on that exterior. It adds, among others, horizontal slats to the bumper grille, splitter-like elements up front, sports black wheel arch extensions, body-colored side skirts, new wheels, and the trademark red stripe across the grille.
The bumper will be taller and will give the GTI a more planted look. The sides will feature the usual black window trim, side skirt extensions, and a fancier set of wheels.
2. Interior
The T-Roc's interior will be a little cramped, of course. This is a compact crossover, after all. It would have a premium feel all throughout the cabin, though—from the dashboard to the comfortable seats to the infotainment system. Some upgrades the GTI could bring are turning the colored inserts and the paddle shifters red since it's the traditional GTI color.
The steering wheel is expected to have a more aggressive design with red accents. The standard seats will be replaced with sportier units with heavier bolstering and maybe even integrated headrests. The standard T-Roc comes with a 6.5-inch infotainment screen but the GTI will likely have the 8-inch version. This will come with a CD player, Discover Media, and a navigation system. The 11.7-inch instrument cluster will display a ton of information—drivetrain info, phone apps, and a media library.
3. Performance
The Golf GTI uses a turbocharged four-pot engine that produces 217 horsepower and 258 pound-feet of torque. the T-Roc GTI could use the same engine with the same output. Currently, the range-topping T-Roc gets 187 horses and236 pound-feet of torque, so the increase of 30 ponies and 20 pound-feet makes sense.