3 Things We're Expecting From The 2017 BMW Concept Z4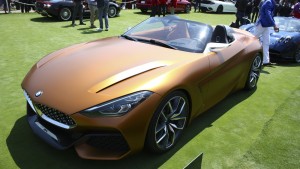 The BMW Z4, which was introduced back in 2003, was a compact, two-seater that can be had as a soft-top convertible or a coupe. It has a sporty exterior and naturally-aspirated engines until the second generation started the turbo engine trend. The Z4 never looked back and now offers turbocharged engines.
1. Exterior
The Concept Z4 is a lot of things, including aggressive, sporty, and hell-bent on being noticed. The highlights of its exterior include the wide kidney grilles, the chrome inside the headlight lenses and the side view mirrors, and the nose that overhangs the lower portion of the front fascia.
The hood is probably the most significant of its look, thanks to those long, recessed vents that also highlights the two dominating lines on the side profile that continue from the fender area to the door. This provides a sense of depth and aggression to the overall body style.
The windshield has a frameless look to it with only the dark tint around the edges to separate it from the rest of the body frame.
2. Interior
The interior of the Concept Z4 is bold and unique, thanks to the two-tone nature of the cabin. The passenger side is covered in orange Alcantara while the driver's side used black leather and some black Alcantara. The focus of the Concept Z4's interior is the driver, and that can be clearly seen by the way the controls are aligned and positioned close to the driver's seat.
At the front of the four-spoke (technically) steering wheel is the all-digital instrument cluster with two primary gauges—the tachometer and the speedometer. The gauges on the lower portion are for the fuel and engine temperature. The interior has a very futuristic design and concept, but we're hoping to see it once the production model is ready.
3. Drivetrain
The rumor mill says that the Concept Z4 will have a 2.0-liter four-cylinder and a 3.0-liter inline-six. The 2.0-liter will be the one offered in most entry-level BMWs. It would be able to produce 258 horsepower. But since this is a third-generation Z4 already, the German automaker needs it to stand out with probably something close to 270 horsepower and 290 pound-feet of torque.
Photos
Check out the photos of the 2017 BMW Z4 from Top Speed in the gallery below: