3 Things You Have To Know About The 2018 Dodge Challenger SRT Demon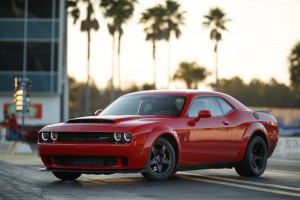 The Dodge Challenger, which nameplate was revived in 2008 after a 25-year hiatus, is the oldest muscle car available in the United States. With underpinnings from W211-generation Mercedes-Benz E-Class (2002-2009), the Challenger was able to survive competing with the modern Mustang and Camaro.
Though the Challenger is basically a dated race car, it's still one of the favorites of most car enthusiasts. This coming 2018, the Dodge Challenger SRT Demon will bring the brand to a whole new level.
Here are the top 3 features of the Dodge Challenger SRT Demon based on a report:
1. Exterior
If you saw the Hellcat, then you'll have a good idea what's to come with the Challenger SRT Demon. It's basically a Hellcat in "steroids." The most notable features are the revised splitter and the wider and taller hood scoop. On the sides, the body is wider and the fender flares hide fatter tires and improve the car's aggressive stance. The Demon head badges can be found on the front fenders.
There are 14 exterior colors available for the Dodge such as B5 Blue, Billet Silver, Destroyer Grey, F8 Green, Go Mango, Granite Crystal, Indigo Blue, Maximum Steel, Octane Red, Pitch Black, Plum Crazy, TorRed, White Knuckle, and Yellow Jacket. Optionally, you can have a Satin Black engine hood or the Satin Black hood, roof, and decklid package.
2. Interior
When it comes to the interior of the car, you will remember the 2015 Challenger. There is not much to talk about it, except you'll find the Demon head logos on the seat backs, the Alcantara steering wheel, the bespoke TFT display, the white-faced gauges in the instrument cluster, and the carbon-fiber badge with "Demon" script.
The Demon comes only with one seat, though you can turn it into a five-seater for a measly $1 each.
3. Drivetrain
The Demon is currently being powered by a supercharged 6.2-liter V-8 engine just like the Hellcat. The engine now has a larger, 2.7-liter supercharger, as well as increased boost pressure, a higher rpm limit, and a larger induction air box.
The total output is 840 horsepower and 770 pound-feet of torque. That's a 133-horsepower increase from the one found in the Hellcat.
Charging from 0 to 30 mph takes just one second, and to reach the 60-mph mark, you only need 2.3 seconds. This makes the Demon quicker than supercars like the Ferrari LaFerrari, McLaren P1, and Porsche 918 Spyder.