3 Things You Have To Know About The 2018 Jaguar XF Sportbrake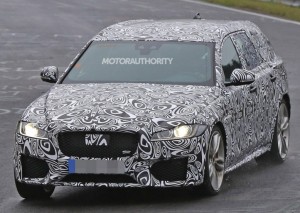 If you have money to burn (we're assuming a Jaguar is only for the moneyed, okay?), then the 2018 Jaguar XF Sportbrake is definitely something you need to have. Spy shots of a new XF wagon from Jaguar was seen being tested in Nurburgring and some surrounding roads.
Called the XF Sportbrake, the wagon will be the next generation of its predecessor unveiled last 2012. But unlike the current model in the market, this one is finally going to be sold in the United States.
Competition
You'll want to know which brands the Jaguar is competing with this particular wagon of theirs, right? Well, it seems like based on specs and designs alone, the XF Sportbrake will be vying with the Mercedes-Benz E-Class wagon, the Volvo V90, and the Porsche Panamera wagon, which is yet to be unveiled.
Future
This particular model is going to be the last body style for the current XF. The standard sedan versions were released in 2015 while in 2016, we saw the long-wheelbase XF L for the Chinese market. As for the XE sedan? There's not going to be a wagon version of that, unfortunately. This was confirmed by Jaguar design head Ian Callum.
Power
We still don't know exactly what's under the hood of the XF Sportbrake. There's a good chance, though, that Jaguar launches an XF SVR Sportbrake. This will the successor to the original XFR-S Sportbrake.
The XF SVR and the XFR-S Sportbrake will most likely offer the supercharged 5.0-liter V-8 engine in the F-Type SVR. This engine can produce a whopping 575 horsepower.
The 2012 XF Sportbrake was one of Jaguar's most successful wagons. It's only fitting that Jaguar builds its predecessor. It will most likely launch in the second half of 2017, probably at the September Frankfurt Auto Show.
The market launch of the upcoming Jaguar XF Sportbrake is expected in 2018.