3 Things You Have To Know About The Lamborghini Aventador S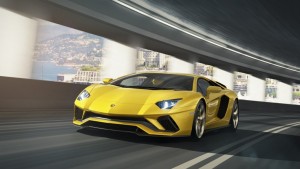 The Lamborghini Aventador is adding a new one to its already bulging roster—an Aventador S with an extra 70 horsepower and rear-wheel steering. The Lamborghini Aventador S will fall between the regular Aventador and the flagship grade SV model.
Here are the key features of the car:
1. Exterior
The new Aventador S comes with a more aggressive front fascia with modified splitter and bumper. There are also two new side air ducts that were incorporated for downforce duties. If you look at the rear end, you can see similarities with the SV—particularly the diffuser with vertical fins. This one's vital to enhacing airflow and increasing the supercar's downforce generation.
There are three single exhaust tips in the middle of the bumper. This only proves the existence of the new exhaust system that lost more than 20 percent of the weight of the current system. There are three automatic positions on the active rear wing that will depend on the velocity and selected drive mode of the vehicle.
2. Power
Thanks to the extensive aerodynamic modifications and the naturally-aspirated V-12 6.5-liter engine, the Aventador S cane give off 740 horsepower, a 40 horsies boost from the current model. This power is being sent to the all-wheel-drive system using a 7-speed ISR gearbox.
The torque is unchanged at 509 pound-feet of torque, though the revs increased to 8,500 rpm. It can go 62 mph in just 2.9 seconds. It has a top speed of 217 mph.
3. Handling
For better handling and increase in lateral control, the Aventador S is fitted with a four-wheel steering system. To accommodate this, however, Lamborghini's engineers have to tweak with the supercar's pushrod and magneto-rheological suspension.
The Pirelli P Zero tires will also boost handling, traction, and braking efficiency. Standard to the Aventador S are the carbon ceramic brakes. You can tweak with the driving modes—Strada, Sport, Corsa, and Ego—through the new digital instrument cluster. Technologies included are the Apple CarPlay and an optional telemetry system.
The Aventador S will start selling in Spring for $421,350.