3 Things You Need To Know About The 2017 Subaru Forester Plus Photos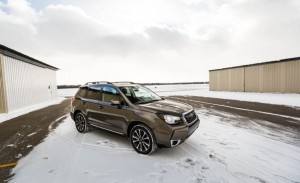 When you look at the 2017 Subaru Forester, you won't be wowed by its physical transformation. It's boxed-like structure will raise eyebrows, though not for long as soon as they enter and be amazed with a spacious interior and no-nonsense technology.
In today's automotive world, it's hard to find a crossover with a boxier appearance than the Forester. Its 34 cubic cabin space is not the best in the segment (that belongs to Honda CR-V), but the boxy aesthetic allows owners and passengers to exploit the spacious interior more easily.
There Are Six Trim Levels
According to a Car and Driver, the 2017 Subaru Forester will be offered in six trim levels: 2.5i, 2.5i Premium, 2.5i Limited, 2.0XT Premium, 2.5i Touring, and 2.0XT Touring. The 2.5i models will enjoy a naturally aspirated 2.5-liter flat-four engine with 170 horsepower and 174 lb. ft. of torque while the 2.0XT models will have the turbocharged 2.0-liter flat-four that produces 250 horsepower and 258 lb. ft. of torque.
Standard on the 2.5i and the 2.5i Premium models is the six-speed manual transmission. All the others will use the CVT as standard. The 2.5i, 2.5i Premium, 2.5i Limited, and 2.5i Touring models have a 2017 EPA fuel-economy ratings of 26 mpg city and 32 mpg highway.
There Are New Front And Interior Elements
On the front of the 2017 Subaru Forester, you'll find a new grille, front fascia, and headlight design. These highlight the changes on the car's exterior, as well as the redesigned taillights at the rear side. All trim levels, except for the base model, have new wheels. Standard to all models is the rear spoiler and optional power rear liftgate that is available from the high-end models down to the 2.5i Premium.
The Interior Remains The Same, But With Better Spacing
Inside, things are almost the same as its predecessor. The minor changes are the updated steering wheel and the available Saddle Brown interior color in the Forester Touring. In terms of cabin, it has a 34-cubic capacity for the cargo that is situated behind the rear seats. No compromise has to be made even if the forester has a sloping roofline and angled hatch.