3 Things You Need To Know About The 2019 Chevy Silverado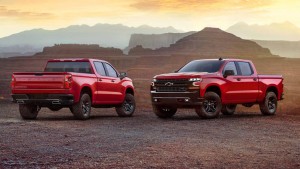 The Chevy Silverado is one of GM's most profitable vehicle to date, so it isn't unusual that the launch of the 2019 Silverado before the Detroit Motor Show got the attention of the media, the fans, and the whole auto industry itself.
1. Higher Fuel Efficiency
The biggest deal about pickup trucks these days is for them to deliver high fuel efficiency ratings and add new features and capabilities. The 2019 Chevrolet Silverado looks to do this as it is rated an industry best 20 mpg combined by the EPA. Compared with the Ram 1500 EcoDiesel that has 23 mpg combined (the best ranked in 2017) and the 2018 Ford F-150 that has 22 mpg combined, the Silverado is definitely at the top of its game.
2. Light And Efficient
One detail about the 2019 Silverado stood out from the information released by Chevrolet. The new Silverado will be 450 pounds lighter than the same model from the 2018 line. Chevrolet said that the weight reduction comes from the use of high-strength steel and GM's mixed-materials strategy. The "swinging panels" such as the door, the hood, and the tailgate are all made of aluminum while the frame, the cab, and the bed remained steel.
Aside from the weight reduction, Chevy also worked on giving the pickup truck a more fluid aerodynamics. The final version resulted to a Chevy with a 7-percent reduction in drag and the appearance of aero curtains at the leading edges of the front sides. These pull air inside the fender and send it to the front wheels to reduce turbulence.
3. New Powertrains Development
In the powertrain department, the Silverado will most likely be fitted with the newly developed Duramax 3.0-liter inline-6 turbodiesel. The presence of the diesel option will line GM's pickup with those from Ram, which led the use of the 3.0-liter V-6 EcoDiesel in 1500-class trucks for the 2014 model year.
The engine will be paired with a 10-speed automatic transmission and the Dynamic Fuel Management.