3 Things You Need To Know About The Black Bison 2019 Suzuki Jimny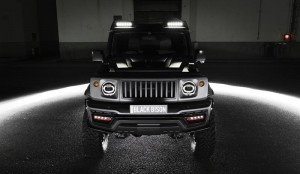 The Suzuki Jimny is an adored rugged little retro-styled SUV that has managed to retain its "cuteness" over the years. Wald International has come up with more than just a body kit for the Jimny. Called the Back Bison Edition, the Jimny looks menacing, rough, and old school.
1. Exterior
At the front, the Back Bison Edition looks quite different from the regular Jimny. The welding, cuts, shut lines, and creases look particularly different. Wald International even added twin hood scoops. The side profile is still boxy and the flared-up wheel arches look like they come from Mercedes-Benz G-wagon sports. Adding new heights to the tuned-up Jimny are bigger tires and wheels.
2. Interior
It looks like Wald International didn't do anything in the cabin, so the Jimny will still have the stock interior. But even if the exterior is a little more rugged, the interior should still be refined and on par with the hatchback segments. Suzuki is known for its practical and ergonomic cabins.
3. Drivetrain
Again, the tuner didn't change anything with the Jimny's drivetrain. The changes are entirely physical. The lift made no change to the powertrain. So at this point, we can expect it to have a 1.2-liter four-cylinder K series engine that makes 89 horsepower and 89 pound-feet of torque. This engine is mated to a five-speed manual transmission with all-wheel-drive. It is also available with a four-speed automatic gearbox.
Although the Japanese tuner didn't do anything about the interior and the drivetrain, that's not the biggest deal-breaker here. The sad thing about the Jimny is the US market won't get it. Since the off-road scene in the US is pretty strong, Suzuki could sell a few hundred thousands of units here.