3 Things You Need To Know About The New Mitsubishi SUV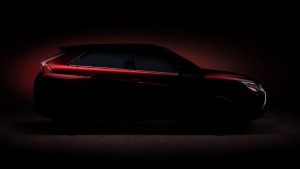 Despite the fact that Mitsubishi's all-new compact SUV is only slated to be revealed at the 2017 Geneva Auto Show, the Japanese automaker has decided to give us a glimpse of what's to come. The five-seater bandwagon will address the gap in the Mitsubishi SUV lineup.
Here are what we found out about it based on a source:
1. It Will Slide Between The ASX And The Outlander
This new compact SUV from Mitsubishi will fill the gap between the current ASX and the Outlander in the Japanese car manufacturer's lineup. This will prove Mitsubishi's plan to eventually move from passenger cars to a SUV-centric range.
2. It Will Be Based On XR-PHEV And XR-PHEV II Concepts
Mitsubishi refused to divulge any details about what platform will be used on this new SUV, but the exterior detailing has us wondering if the XR-PHEV and XR-PHEV II concepts will play a major role here.
The teaser for the SUV gave us a glimpse of sharply angled design, slanted C-pillar, and wedge-shaped glass house. All of these bear similarities with the two previous concepts.
Reminiscent of the ASX, this new SUV will have a slightly smaller size for the next generation. It will sport a traditional five-door and five-seater cabin.
3. It Will Have A Petrol Or Diesel Engine
Though Mitsubishi has not released any details about the powertrains in their new SUV, we bet the automaker will use a 1.5-liter turbocharged petrol and a 2.2-liter turbo diesel found in the Outlander. The petrol will be paired with a six-speed manual or a CVT automatic while the diesel will be mated with a six-speed automatic.
Both of these engines will come standard with a front- and all-wheel drive systems. Mitsubishi is also expected to come out with a plug-in hybrid variant, which is based on Outlander PHEV's petrol-electric drivetrain.
There are no pricing details yet, but expect it to be similar with the ASX XLS, which has a price tag of $36,490.