3 Things You Should Know About The 2019 Nissan Altima Spy Shots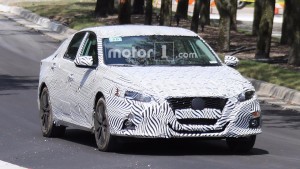 There are new spy shots of the prototype for the next-generation Nissan Altima mid-sizer. The car will be due to arrive in showrooms in late 2018 as a 2019 model, and will represent the sixth generation of the Altima nameplate.
During the 2017 Detroit auto show earlier this year, the next-gen Altima was previewed through the Vmotion 2.0 concept car.
1. Design
If you have seen the concept, you'll know that there are numerous elements from it that can now be seen in the production version of the car. There's much you can see in the spy shots from Motor1 even though it's in heavy camouflage. The prototype and even the production model both highlighted the angular headlights, V-shaped grille, and floating roof.
The interior showed that the new Altima will have a digital screen in the instrument cluster and a larger screen located at the top of the center stack. For those who still want the feel of touching something in their cars, there are physical knobs for functions such as controlling the volume and temperature.
2. Powertrain
There's no word yet on what the Altima will come packed with. What we can expect is that a four-cylinder should be the base model while a more powerful option will be offered in the form of a turbocharged four-cylinder or a four-cylinder-based hybrid setup.
The gear selector in the new Altima will be similar with the current model. This means we can expect a CVT and a front-wheel-drive system. An all-wheel drive is still in question, though.
If you're looking for more driver assistance tech, the Altima can offer that, too. The ProPilot will reportedly be available in the next-generation Altima, including the assistance to drivers in accelerating, braking, and steering in a single lane in a highway. There's also parking assistance provided by the system.
3. Competition
The next-generation Altima is in direct competition with the Toyota Camry, the Chevrolet Malibu, the Subaru Liberty, the Ford Fusion, the Kia Optima, the Honda Accord, and the Hyundai Sonata.