3 Things You Should Know About The 2019 Porsche 911 Speedster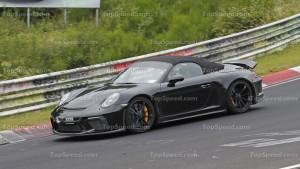 Though it's about to retire, nothing could stop Porsche from fitting the current-generation 911. Spy photos of an uncovered Porsche 911 Speedster have been revealed by TopSpeed, and let's just say, the sports car looks absolutely sexy.
Exterior
Save for its soft top, the two-seater 911 Speedster followed the styling cues of the 911 GT3, which is available in coupe only. The bumper is identical to the GT3 with its large vents on the sides and wide intake on the middle.
And just like the GT3, the rear fenders are wider, which is enough to house the middle-mounted exhaust with two pipes. The engine lid has a unique and interesting-looking spoiler, but this could change as the car nears production.
Interior
The interior of the 911 Speedster will be better than the 911 Carrera. That's about the only info we can get from the rumors. The interior can be a cross between the standard 911 and the GT3, and it could have the standard features available for the Carrera T. These features are the Sport Seats Plus package that carries with it sportier, four-way adjustable seats with integrated headrests and contrast stitching.
When it comes to the technology available, we're pretty sure that the 911 Speedster will be fitted with the Porsche Communication Management (PCM) system with online navigation and real-time traffic information, the Connect Plus module, and the Track Precision app.
Performance
The new model will most probably carry the same engine as the Carrera GTS, though this will fail to be faster because it lacks the aerodynamics. The 3.0-liter flat-six engine should give 450 horsepower and 406 pound-feet of torque. It will be paired to a seven-speed PDK transmission that will enable the Speedster to reach 60 mph in just 3.7 seconds.
The Speedster will cost more than the 911 GT3 because there will only be 1,948 units produced. The Speedster might cost a whopping $150,000 before options.