3 Things You Should Know About The 2019 Renault Arkana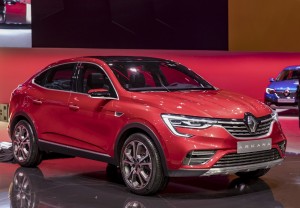 French car manufacturer Renault revealed an all-new coupe SUV called the Arkana at the Moscow Auto Show. This is the first coupe-inspired SUV to sit at a lower price point compared to its more premium competitors.
For now, it is just a concept, but one that is really close to production. Once released, it will first be marketed to Russia before going to other Western countries under a different name. The United States won't get it, though, since we don't have Renault here but we expect to see Nissan release a similar architecture to the Arkana.
1. Exterior
The latest technology and ideology from Renault designed the Arkana based on the Talisman and the Megane. There will be many bits and pieces of the front and rear end of the Arkana that would be taken from the two cars. If you look at it closely, it would resemble in many ways an updated Renault Megane Grand Coupe. There's also redesigned C-shaped lights.
The one obvious thing that made this a coupe crossover is the coupe roofline. While many automakers try to hide the coupe nature of their coupe-inspired SUVs, Renault went the other way and made this with a high waistline, massive clearance, and 19-inch wheels.
Based on its dimensions, the Arkana is going to compete with the Nissan Rogue or the Honda CR-V.
2. Interior
Renault refused to give photos of its interior, but it's safe to say that it would be close to the high-speccedMegane or Talisman. The dashboard will be dominated by a massive central portrait screen while the instrument cluster will be partially digital.
It brings a sense of comfort for the Arkana to have a Megane interior because it will at least bring a dash of elegance and sophistication.
3. Drivetrain
Remember that this is going to be a cheap crossover, so it will probably carry the engine from the Renault Kadjar. That being said, the Arkana will come equipped with a 1.2-liter turbocharged petrol engine and an option for a 1.6-liter diesel engine. These machines should be paired with a possible 4WD.