3 Things You'll Want To Take Note About The 2017 Speedback GT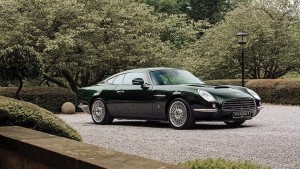 Are you really surprised that the 2017 Speedback GT will be introduced during the Geneva Motor Show? The Swiss event is usually where really elegant cars are being propositioned, so we're bound to see something truly amazing once the automakers start the ball rolling.
Here's a look at the 2017 Speedback GT, which will be highlighted in the event:
It Has A Ginormous Price Tag
The price of the 2017 Speedback GT is no laughing matter. Only the truly, truly rich can afford this one as it's slated to come out with a $622,330 price tag. It's little wonder that David Brown Automotive wants their hands on it. The retro-flavored 2017 Speedback GT starts its life as a Jaguar XKR. After much tinkering around and at least 8,000 man hours of service, the Speedback GT finally came into fruition.
At the 2017 Geneva Auto Show, the coachbuilder will have two models on display. They will be wearing the latest updates and design enhancements. And why shouldn't you be amazed? This started out as a regular XKR that was turned into ala-James Bond Aston Martin DB5 luxury car.
It's Almost Unrecognizable
If we didn't mention what this was, would you realize it was actually the Jaguar XKR? DBA used 142 panels on this car, which means that the only original left from the donor was the windshield frame. Even the painting process took more than eight weeks.
Instead of the XKR's trunk lid, the Speedgate has a practical top-hinged tailgate, which lower section you can fold down to create a seat. In total, there are 237 changes on the 2014 prototype.
It Has The Same Engine
Though a lot has changed aesthetically, what's under the hood remained the same—something that fans of the 2014 concept will surely appreciate. The 2017 Speedback GT still has the supercharged 5.-liter V-8 engine with 510 horsepower (380 kilowatts) and 461 pound-feet (625 Nm) of torque.