3 Ways The 2017 Nissan Sentra NISMO's Pricing Disappointed Us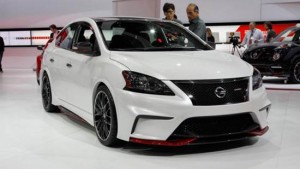 We were all expecting the 2017 Nissan Sentra NISMO to come at under $25,000 because that was what the Japanese automaker earlier revealed. So, it came as a big surprise that the NISMO, Nissan's new sport compact, was priced at $25,855 because of the mandatory destination fee that was put at $5,000.
Aside from that, here are the three ways that Nissan NISMO surprised us:
1. The base price applies to both options.
How can there be one price for two different transmissions? The $25,855 price tag for the base model covers both the CVT automatic transmission and the 6-speed manual transmission. The latter is obviously the better choice for this turbocharged sedan but of course, there are drivers who prefer to go manual than automatic. Still, it was quite curious why Nissan decided to price the two trims the same. Traditionally, manual transmission should be cheaper.
2. The factory option for Sentra NISMO is priced at $295 and $1,220
Besides two transmission choices, Nissan only offers two other factory options for the 2017 NISMO. The first one is the Aspen White exterior color that sells for an extra $295 and the second one is the Premium package that adds $1,220 on the base price. The Premium package will bring in the Bose audio system and a 5.8-inch touchscreen that has navigation and satellite radio features. Coming standard to the NISMO are the following: heated seats, backup camera, proximity key, microsuede inserts for the steering wheel, a body kit, and 18-inch wheels in 215/45 all-season tires.
If you want summer tires, that is possible too, though Nissan has yet to release the pricing for that.
3. The Nissan NISMO costs more than Ford and Volkswagen.
The Ford Focus ST, which sells for $25,650, and the Volkswagen Golf GTI, which is priced at $26,415, are all coming in cheaper than the 2017 NISMO. That doesn't make sense, actually, because the Focus ST is more powerful at 252 horsepower while the Golf GTI already ranked in the 10 Best Cars. The Ford Fiesta ST, which costs only $21,995, is 9-horsepower more powerful than the NISMO.
The only reason we can think of why the NISMO is priced higher is because of the stiffer suspension tuning and trim differences.