4 Cool Things We Learned About The 2019 Kia Forte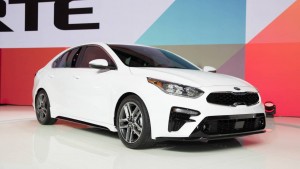 There's a lot to say about the 2019 Kia Forte—from its new CVT gearbox down to the technology we can find inside the third-generation sedan. What's glaringly obvious, though, is that it doesn't offer the same performance as the Stinger, its big brother, but gained a little bit of what makes the Stinger unique, aesthetics-wise.
Here are four cool things we learned about the Kia Forte based on a report from Motor1:
1. Exterior
By the looks of it, the new Forte will have the Stinger's set of sweptback headlights and a more aggressive front fascia. It will also have a flowing roof and short rear end, giving it a vague coupe-like appearance, depending on what angle you look at it.
2. Technology
Inside, the Forte is equipped with a standard 8-inch infotainment system with support for Android Auto and Apple CarPlay. The said infotainment system is perched on top of the center stack. But that's not all there is in the Forte. It can come with an optional driver assistance suite that includes blind-spot warning, lane keep assist, adaptive cruise control, and forward collision avoidance assist. Optional, too, are full LED headlights.
3. Size
The new Forte is bigger than the previous generation, gaining 3.2 inches to bring the overall size to 182.7 inches. The extra room gives the passengers more legroom and a bigger trunk.
4. Powertrains
The Forte boosts of efficiency as it is now available with a 6-speed manual transmission or the company's own CVT gearbox, which it has branded as the "Intelligent Variable Transmission." The gearbox is powered by a 2.0-liter four-cylinder that runs on the Atkinson Cycle. The combination produces 147 horsepower and 132 pound-feet of torque.
The 2019 Kia Forte will be available in three trims: LX, S, and EX. The South Korean company has yet to announce the pricing and the release date for the new sedan, but more details should come shortly.