4 Engine Options Revealed for the Porsche Panamera Sport Turismo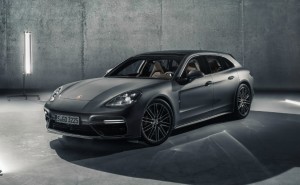 The Porsche Panamera Sport Turismo will be one of the vehicles gracing the 2017 Geneva Motor Show. The sports car will be unveiled by Porsche together with the Panamera 4, Panamera 4S, Panamera 4E Hybrid and the Panamera Turbo.
The concept version of the Panamera Sport Turismo was introduced around five years ago. The unit was first shown at the 2012 Paris Motor Show. Basically, the production version of the car will carry most of the styling elements seen in its concept model.
According to a report, the Porsche Panamera Sport Turismo will offer four engine options. The power units that customers can choose from include a 3.0-liter turbocharged V6, 2.9-liter twin-turbo V6, 2.9-liter engine paired with a 136 bhp electric motor, and last but not least is a 4.0-liter twin-turbo V8.
Among the notable features of the Porsche Panamera Sport Turismo are the Porsche Advanced Cockpit, Porsche Dynamic Chassis Control, Porsche Communications Management, electronic stabilisation control, Porsche InnoDrive, rear axle steering, AWD adaptive air suspension, adaptive air spoiler, Porsche Traction Management and many more.
The adaptive spoiler function of the car allows three settings to choose from depending on the driver settings and the speed of the auto. The feature is capable of generating a down-force of as much as 50 kg.
Moreover, it is the first time for the Panamera range to offer a three-seating capacity at the rear. There is also an option to get four seats with electric adjustment operation for the auto.
The 2017 Geneva Motor Show kicks off this Tuesday on March 7, 2017. The event runs until the 19th of the month. So watch out during those days for the Panamera Sport Turismo.
The first deliveries of the Panamera Sport Turismo to buyers will begin in October this year.
Photos
Here are some of the photos of the Porsche Panamera Sport Turismo showing its front and rear exterior plus a peek at its interior: