4 Facts About The 2018 Volkswagen Atlas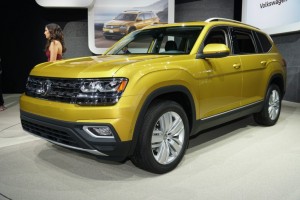 Finally, Volkswagen unveiled its 2018 Atlas, a three-row, seven-seater SUV that the German automaker hopes would play a major role in the SUV segment in the United States. This was first previewed in 2013 by the CrossBlue concept.
According to a report, the SUV made its world debut at the 2016 Los Angeles Auto Show, and will be expected in showrooms in the spring of 2017. Built at the Volkswagen's plant in Chattanooga, Tennessee, the Atlas will arrive as a 2018 model.
1. Based on MQB Platform
Similar to the Golf and other Volkswagen models, the Atlas is going to be made from the MQB platform, the largest version available to make a case to be the segment's most value- and family-oriented SUV. It is expected to go against the Ford Explorer, the Toyota Highlander, the Chevrolet Traverse and the Honda Pilot.
2. Largest Vehicle of VW
With measurements of 198.3 inches in length, 77.9 in width and 69.6 in height, the Volkswagen Atlas is the biggest vehicle in the VW fleet. It has an airy cabin that was almost based on the CrossBlue concept. It features massive knobs, large touchscreen infotainment system, as well as wood trims on the console.
3. Two Powertrain Options
Once launched, the Atlas will have two powertrains. The base is the turbocharged 2.0-liter inline-4 that can produce 238 horsepower. The second option is the 3.6-liter V-6 that can cough up 280 horsepower. Initially, Volkswagen wanted to release a diesel option, but the recent scandal hounding it proved too much for the company. Fuel-conscious buyers need not fret because there might be a hybrid option in the future.
A front-wheel drive will be paired with the inline-4 while the V-6 has an option of an all-wheel drive. The 8-speed automatic transmission will be standard. VW said that EPA ratings will be announced when its nearing market release.
4. A/V Tech is Topnotch
Tech items include Fender audio system with 12 speakers, Apple CarPlay, and Android Auto smartphone integration. Safety features include forward collision warning, blind spot and lane departure warning, adaptive cruise control, and automatic emergency braking.