4 Important Stuff About The 2018 Ford Mustang Convertible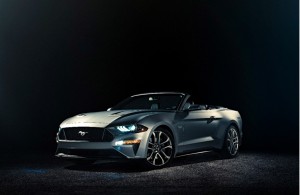 Shortly after Ford made changes on its Mustang Coupe and introduced it to the public, they are now giving the same significant changes to its Mustang Convertible. However, there'll be a long wait before you're able to get your hands on this toy.
The 2018 Ford Mustang Convertible will be available starting this fall according to a report.
Powertrain
The biggest change for the 2018 Mustang Convertible happens under the hood, with a 10-speed automatic instead of the usual six-speed transmission. Also getting upgrades are the two Mustang Convertible options: the 2.3-liter 4-cylinder and the 5.0-liter V-8 engines.
We still don't know what changes will come for the 2.3-liter though we are quite sure that the 5.0-liter will add direct injection for a boost in power.
Suspension
Aside from the changes on the powertrains, the new Convertible will also have the MagneRide suspension and active valve exhaust will be an option. With the use of magnetorheological shocks, the metal-infused fluid in the suspension makes the shocks firmer when giving an electric charge.
This suspension system is included in the Performance package for the coupe, so we're assuming \it will be the same here.
Interior
Same with the Coupe, the Convertible will get a 12-inch customizable digital instrument cluster, which has a MyMode memory function that can remember your driving preferences. For the safety features, there's the forward collision warning with pedestrian detection and emergency braking.
Exterior
The Convertible follows the Coupe's change in designs with the new front end and rear end. The Convertible, in particular will have resculpted headlights, a lower fascia that flares out, and a more complex outer air intakes.
Ford will offer the car in three new color options. There will also be a choice of 12 different wheel designs, so owners can customize each Mustang Convertible through their color and wheel options.