4 Key Features Of The 2017 Jeep Grand Cherokee SRT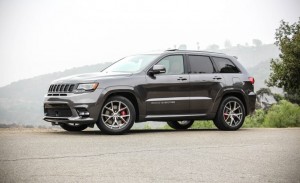 The emergence of crossovers and SUVs is a matter of practicality for most Americans. Since they can haul more people and have better space than sedans, crossovers and SUVs have obviously become a favorite for many Americans.
It's no surprise that manufacturers are adding sportiness and sexiness to these compact vehicles to widen the genre and market reach.
Mild Facelift For 2014 SRT
The model first came to consciousness as a 420-horsepower Jeep Grand Cherokee SRT8, which ran from 2006 to 2011. The second generation came about in 2012. It was a 470-horsepower machine with an abbreviated SRT suffix. By 2014, it received a mild facelift, as well as a new eight-speed automatic transmission with launch control.
Since that year, it received an update of five more horsepower and 5 lb-ft of torque for a grand total of 475 and 470, respectively. This 2017, the Grand Cherokee SRT will undergo slight touchups cosmetically.
Handsome And Luxurious Interior
In the past, the Grand Cherokee SRT couldn't win comparison tests because its interiors are basic and unassuming. Compared with other vehicles with this much power in the market, the Grand Cherokee SRT would feel like one of your everyday cars.
This year, the Grand Cherokee SRT has been fitted with saddle-colored hides, microsuede leather headliner, carbon-fiber trim, and a batch of other options, most of which come with a hefty price tag. You can opt for these: a panoramic sunroof ($2095), a dual-screen rear-seat entertainment system ($1995), and a premium audio system (also $1995).
You may also get it with a trailer-tow package for $995, as well as an $895 set of Pirelli P Zero Run Flat summer tires in $1295 set of 20-inch wheels, and $1295 Brembo brake calipers,
Speed And Power Like No Other
The Jeep's engine can go 60 mph in just 4.4 seconds. If you want to go 30-to-50 mph, that would be 2.9 seconds while 50 to 70 took 3.2 seconds. These aren't astounding numbers, but the best thing about the Grand Cherokee SRT is that you won't feel just how fast you're going. It has such a good suspension system that handling it is such a breeze.
It has multiple driving modes: Snow, Tow, Auto, Sport, and Track. The front/rear torque distribution varies depending on the driving mode.
Cheaper Than Other High-Performance SUVs
At $78,455, the Grand Cherokee SRT is way more affordable than its other rivals from Porsche, Land Rover, and Mercedes-Benz.
Photos
Check out the official photos of the 2017 Jeep Grand Cherokee SRT in the gallery below: