4 Pretty Cool Stuff About The 2018 Hyundai Sonata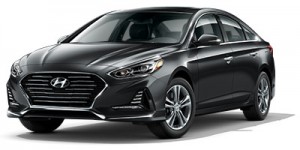 The 2018 Hyundai Sonata is unlike the upgrades for the incoming Toyota Camry and Honda Accord in such a way that the upgrades are significant than necessary. Hyundai still plans to battle it out in the crowded midsize family sedan segment, but can they still do it?
The segment is getting significantly smaller because consumers are choosing crossovers more and more. This is a challenge not only for Hyundai, but for Japanese automakers like Toyota and Honda looking to make waves in the midsize sedan segment.
1. Exterior
The most telling change in the new Sonata is the cascading grille up front. The grille is longer and more contoured, and will be part of Hyundai's new corporate design language. This means consumers will see the same grille across Hyundai's vehicle lineup. The entire car has a more aggressive appearance, thanks largely to an elongated front end, character lines on the hood and front bumper, and a slimmer pair of LED headlights.
The back end was made simpler by showing off the sheetmetal and the redesigned taillights. For a sportier feel, the turbo models will get twin exhaust pipes.
2. Interior
Inside, the highlights of the new Sonata are the seven-inch touchscreen monitor (eight inches on the Limited edition), the streamlined audio controls, the sporty and leather-wrapped three-spoke steering wheel, and the leather seats, of course.
3. Powertrains
There is an all-new engine, too. An 8-speed, turbocharged 2.0-liter will power the 2018 Sonata to 245 horsepower. Though experts will be disappointed with the lack of increase in the power output division, it's worth taking a note that even BMW 330i's 2.0-liter turbo can only produce 248 horses.
4. Release Dates and Prices
The SE, SEL, Limited, and Limited 2.0T models are available now, but the Eco 1.6T is arriving later this summer. Next year, we'll be treated to the Hybrid and Hybrid Plug-in models. The base price for the all-new Sonata is $22,050 with improvements and other packages upping it to at least $33,460.