4 Special Things To Note About The 2017 Ford Mustang Blue Edition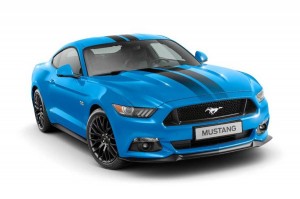 In an aim to better target the European market, Ford developed a special edition of its Ford Mustang that will suit Europe's roads and emission requirements. The Blue Edition, in a sense, pays tribute to the eye-popping colors Ford offered in the late 60s to the early 70s.
Roelant de Waard, vice president of Ford Europe, said Mustang drivers will surely be turning heads when they drive by in the Blue Edition.
Here are the four key features of the special edition Mustang based on a report:
"Go Fast" Black Stripes
Grabber Blue is used on all Blue Edition Mustangs. This is one of the two blue hues used on the sixth-generation coupe. Choosing the Grabber Blue won't cost you extra and it doesn't make it special, too. What makes the 2017 Ford Mustang Blue Edition special is the double "go fast" black stripes, which have a "dissolve effect" as it nears the grille. It is even more complemented by the black-painted, 19-inch multi-spoke alloy wheels.
Remember the 1969 Shelby GT350 and GT500 models that used the Grabber Blue? That's exactly what Ford is aiming for here. The Mustang, as you well know, depends on its heritage and that Mustang nameplate is a testament to that.
Added Options Indoors
In the cabin, the Blue Edition enjoys a number of features, which include heated and cooled seats, a premium audio system, and Ford's SYNC 3 communications and entertainment system. This system comes with an eight-inch touchscreen and cool apps that  enables drivers to locate cafes, parking lots, and gas stations.
Two Engines Available
Under the hood, you'll find two options for the Blue Edition. You can choose between 2.3-liter EcoBoost and 5.0-liter V-8 engines. Looking for the V-6? That is only available for the American market. The 2.3-liter turbocharged four-cylinder can produce 317 horses while the 5.0-liter can churn out 421 horsepower. Either engine can be paired with six-speed manual or automatic transmission.
Pricing Nears Standard Model
Ford has yet to release the prices for the Blue Edition, but we believe it should stray too far from the standard model. In the UK, EcoBoost has a starting price of £31,745 while the GT costs £35,745 and up.