4 Things To Check Out About The 2019 Toyota Supra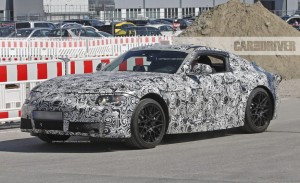 Toyota has yet to confirm the arrival of another Supra, specifically for the 2019 model year. But if the new spy shots are to be believed, it looks like the Supra name is making a comeback for this sports car, which will particularly be marketed in Europe.
In 2011, the Japanese automaker announced that it signed a deal with BMW to develop a sports car platform. This is supposedly that car. BMW, for its part, is using the platform as replacement for the Z4, which is believed to be a new model called the Z5.
1. It Is Smaller Than The FT-1 Concept Car
These spy photos reveal that the 2019 Toyota Supra will be relatively smaller than 2014's FT-1 concept car, which already previewed the design. It did borrow a host of other elements from the concept, mainly the double-bubble roof, the protruding nose, the muscular rear fenders, the jet-fighter style glasshouse, and the ducktail trunk lid.
In some of the shots, there is also a glimpse of the new liftback. There are still few details about the Supra, seeing as there's still plenty of time before Toyota takes this to the 2017 Tokyo Motor Show.
But what we do know is that the new platform features a front-midship layout and a low center of gravity based on the very low hood and roof. It might also boast of a multi-material construction, probably using more carbon fiber to take off the weight and boost speed and strength.
2. There Will Be At Least Two Powertrains
The Supra might have two powertrain choices. The range-topper is a hybrid powertrain that combines a twin-turbocharged V-6 engine with an electric motor or two. There is still no confirmation about the base model. The V-6 engine will be able to power the rear wheels while the electric motors will bring power to the front wheels. This should create a "through-the-road" hybrid setup. We saw this same setup in Toyota's Hybrid-R concept back in 2013.
3. It Will Have A Mid-$50K Price Tag
The system might sound good on paper, but it also means a hefty price tag of mid-$50,000 for the base model. That is higher than a Corvette, the standard of classic sports car in the US. That price will quickly rise with modifications and a higher-range model.
There is a fear, of course, that the price tag will pull the sales down, so Toyota may offer an entry-level powertrain that will pack either a twin-turbo V-6 engine or a turbocharged inline-4.
4. Spy Photos
Check out the spy photos of the car below, which were provided by Car and Driver: