4 Things To Expect From The 2019 Aston Martin Rapide AMR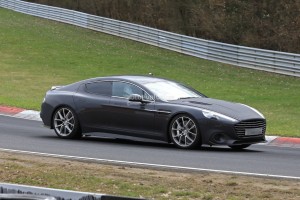 The Rapide is badly in need of a fresh upgrade or update from Aston Martin, but it looks like the luxury carmaker is focused on anything but that. Whether or not Aston Martin is actually working on a new Rapide remains to be a mystery, but what we've heard is that it's getting a high-performance version, thanks to the AMR division.
Here's what we think the Aston Martin Rapide AMR will look like:
1. Exterior
There will be carbon-fiber bumper inserts and large splitter on the revised bumper. This is what was seen on a test car spotted near the Nurburgring track. The revised bumper has AMR written over it with round foglamps, vented hood, and a revised grille. The side view is a mixture of AMR and standard production features. The side skirts are seen on the test car were similar to the concept model, but missing are the carbon-fiber mirror caps, the black fender strakes, and the black door handles.
Highlights of the rear end include an aero flip on the decklid, a revised bumper that's not yet painted, and a new, more aggressive diffuser.
2. Interior
Expect the AMR version of the Rapide to carry the same design and features as the standard Rapide, except that there will be a few highlights—Dark Knight Alcantara on the dashboard, the seats, and the steering wheel, sports carbon-fiber seats, and a carbon-fiber center stack and console.
The sedan's seats, dashboard, and door panels should have contrast stitching, depending on the exterior detailing of the Rapide. It should have bespoke graphics for its infotainment screen and instrument cluster.
3. Drivetrain
The Rapide AMR is set to be the most powerful version of this model. It should get the same naturally aspirated 6.0-liter V-12 machine that can produce 592 horsepower and 465 pound-feet of torque. That's a 40-horsepower jump from the regular Rapide. It should be able to reach 62 mph in just 4.3 seconds and top speed will be a whopping 210 mph.
4. Prices
The Rapide S is priced at $207,775 in the US. It's safe to assume that the starting price for the Rapide AMR would be $250,000 before options.
Photos
Here are the spy shots of the Aston Martin Rapide AMR from autoevolution: