4 Things To Know About The 2017 Aston Martin Vanquish Zagato Volante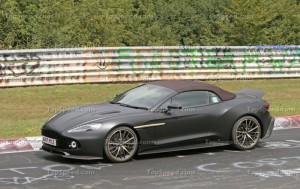 The Vanquish Zagato Volante is said to be the rarest Aston Martin car ever created and there will only be 99 units of this made. This makes it as hard to come by as the coupe version that was based on a collaboration dating back to over five decades.
The Ashton Martin Vanquish Zagato Volante was spotted for the first time in July 2017 at the Nurburgring. Here are what we learned about it so far based on a report:
1. Exterior
The drop-top version of the Vanquish Zagato Volante is similar to the couple, except for the missing roof and the fact that it's made entirely from carbon fiber. It's the back part where the drop-top version will look different because the trunk lid has been reshaped while the tailgate has been replaced by a conventional lid.
2. Interior
Inside, the Zagato is similar to the standard Vanquish Volante. The overall design is unchanged, but the cabin now has enhanced high-end materials and special features. Some of the differences are the "Herringbone" carbon fiber on the center stack, the aniline leather and the "Z" quilt pattern stitch on the seats and door panels, the "Z" embossed on the headrests and center console, and the double contrast stitching of the upper door panels.
3. Drivetrain
The Vanquish Zagato Volante is using a naturally-aspirated 5.9-liter V-12 engine that is paired with an eight-speed automatic transmission that remains standard. That pairing has an output of 591 horsepower and 465 pound-feet of torque. The standard Vanquish has 23 horsepower less than the Zagato Volante, which can go from 0-60mph in just 3.7 seconds.
4. Pricing
There's no final word on how much the Aston Martin Vanquish Zagato Volante will cost. What we do know is that there will only be 99 units of the Zagato available, so eager hands should place a reservation immediately. Based on estimated, though, the Zagato convertible will be somewhere north of $450,000.