4 Things To Know About The 2018 Hyundai i20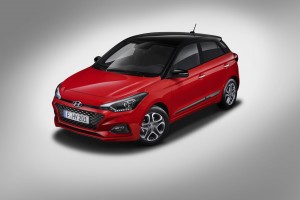 The Hyundai i20 is known for being affordable and practical, thanks to its power efficiency and a number of tech features inside. The South Korean brand has finally revealed a refreshed model for the i20, which last saw an upgrade back in 2014.
The updated line has gas-powered engines and the latest tech safety features available in the market.
1. Exterior
There are a number of body styles that the 2018 Hyundai i20 is offering, which will basically cover as many segments as possible. The body styles include a five-door hatchback, a sportier three-door hatch, and a crossover "Active" body style.
The 2018 model year gives a slightly upgraded design to the i20. There's a restyled cascading grille design up front, a two-tone roof option, and alloy wheel sizing between 15 and 16 inches. There are more exterior paint colors, too, such as Tomato Red, Champion Blue, and Clean Slate. The other carry-over hues are Passion Red, Sleek Silver, Stardust Grey, Polar White, and Phantom Black.
2. Interior
The layout of the cabin is pretty basic and straightforward. Since this is a practical car, at the most, that should not be a problem to owners. The steering wheel has a thumb-operated multifunction buttons and red contrast stitching. There's a center-mounted digital driver's information display, and a push-button start finishes off the look.
Buyers can get an optional panoramic sunroof, but that will cost more. And for the infotainment section, the Hyundai i20 will have features that include navigation, media support, and connectivity services. Cargo room, on the other hand, is rated to have 11.5 cubic feet.
3. Performance
There will be no more diesel option for the 2018 Hyundai i20. The carmaker, instead, opted for a variety of gas-powered engine configurations—a turbocharged Kappa 1.0-liter three-cylinder T-GDI and a naturally-aspirated Kappa 1.2-liter engine.
4. Prices
The 2018 Hyundai i20 will arrive in dealerships in June and sold in the European market. Hyundai did not provide exact pricing for the cars, but expect it to be around $16,513.