4 Things To Know About The Honda Urban EV Concept Retro Design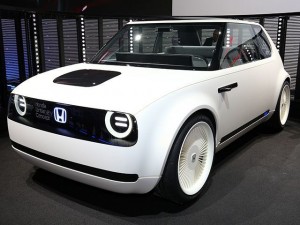 The Honda City garnered a cult following because it was cute and functional. Can we fault Honda for wanting to maximize the potential of the City? At the 2017 Frankfurt Motor Show, Honda unveiled a new concept called the Honda Urban EV. It is basically a City, but fitted with a retro design that we all adore.
1. City with Retro Touches
Think of the City, but with more compact dimensions, round headlights, rectangular grille, and a hood decal reminiscent of City's previous generations. To complete the look, there's also an upright tail with square taillights. Overall, the car looks every bit the compact sedan Honda has been updating every year, but with funkier exteriors and interiors.
The suicide doors all the more emphasize the concept's retro design. The driver and passengers will enter through it and sit on a pair of benches. At their front is perhaps one of the largest displays ever to be fitted on a car. They should be able to view conventional information that shows infotainment details and everything related to the car's all-electric powertrain.
2. Power Manager to Take Care of the Drivetrain
There is no word yet on the powertrain, but Honda has been vocal about the Power Manager, which debuted alongside the Urban EV concept. The new technology will be able to transfer energy between a vehicle, a home, and the broader energy grid. If you are familiar with Tesla's Power Wall, wherein owners can store renewable energy and upload it to the grid, the Power Manager sounds a lot like it.
3. Modern Touches Can Be Found Too
Sure, the retro design will make the Urban EV Concept stand out, but there are modern touches, too. There's a blue backlighting in the Honda grille badge, a programmable display screen between the headlights, and a display screen between the taillights that shows the charge status. Aside from those, there's also the huge multi-spoke wheels.
4. Concept to Go Into Production
The Honda Urban EV Concept will not remain a concept. It will go into production for European markets in 2019. There is no word yet if this will cross the shore to the United States, but let's hope that it will since the retro design is too cute for words.
Photo Source: CarBuzz