4 Things To Remember About The 2018 BMW 6-Series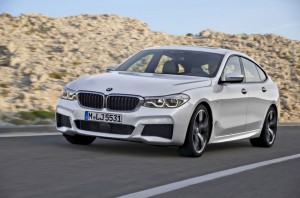 Did you know that the BMW 6-Series originally started out as a sporty coupe? The current generation includes a sedan called the Gran Coupe. For the 2018 model lineup, BMW is adding more and taking away some of those unloved cars under the 6-Series.
According to a report, the 2018 model-year will see BMW moving away from the coupe body style to introduce a five-door liftback called the 6-Series Gran Turismo. This is the replacement for the 5-Series Gran Turismo, which even BMW lovers are not a fan of. BMW hopes that the more premium aesthetics and feel of the liftback will attract enthusiasts back.
1. BMW 6-Series Wide Range of Vehicles
BMW's 6-Series now has a "complete" range of vehicles: a convertible, a sedan, and a liftback. The convertible and sedan, which are both based on previous-generation design, will soon be phased out while the liftback is based on the German automaker's latest platform.
2. Convertible and Coupe to be Phased Out
The 6-Series convertible and coupe will be replaced for the 2018 model year by the new 8-Series models. BMW hasn't revealed yet if there are plans to make an 8-Series Gran Coupe, but both China and the United States are big fans of sedans, so that maybe bound to happen.
3. 2018 6-Series in Powertrains
The 6-Series GT is being offered exclusively in 640i xDrive guise for the 2018 model year. The trim will come packing a 3.0-liter turbocharged inline-6 that produces 335 horsepower and 332 pound-feet of torque. It also arrives with the standard 8-speed automatic and all-wheel drive system.
There would likely be more powertrain options once the launch was done, including a 630i option and the more powerful M650i option. The latter will most probably pack a 4.4-liter turbocharged V-8 engine that will have an output of 455 horsepower and 480 pound-feet of torque.
4. Tech Goodies in Surplus
Since the 6-Series will be based on the latest platform coming out of BMW's plant, it's safe to assume that the series will also receive all the tech goodies from the platform—LED headlights, self-leveling air suspension at the rear axle, 12.3-inch digital instrument cluster, 10.25-inch infotainment touchscreen display, voice activation, numerous electronic driver aids, and gesture control.