4 Things To Take Note Of In The 2017 Volkswagen Golf R-Line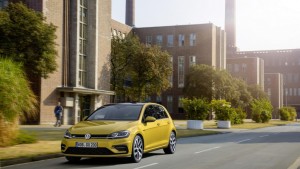 By the end of 2016, we saw the Volkswagen Golf get its much-needed mid-life cycle facelift. All models under the Golf line got upgraded, both in the exterior and a bit of its interior. What we're surprised is that Volkswagen did not seem interested to promote the R-line of its Golf model.
Apparently, you can now get the VW Golf with the R-line package, which is a bit like getting the GTI/R (because of the sportiness of the package) minus the upgrade on the powertrains. Here are three things you need to take note of with the VW Golf R-line based on a source:
1. Exterior
The R-line package can be applied both on the hatchback and the wagon segments. This caters to the needs of drivers who want all the sportiness and the design of the higher-end models, without necessarily the upgrades in the engine and power.
The R-line package brings to the table the following upgrades on the exterior: redesigned front and back bumpers, sill extensions in glossy black, and new rear spoiler with aero flaps. There is also the option to have a diffuser at the back with the trapezoidal exhaust tips with chrome finish.
2. Interior
Inside, you can find that the compact has a slew of changes such as stainless steel door sill panels, foot rest, pedal caps, sport seats, and black roofline. You also have the option to have leather seats instead of the sport seats. Then, there are also what they call the "decorative inlays," which basically means these: floor mats, contrast stitching for the gear shifter, and a sportier steering wheel with the R-line badge,
3. Pricing
The R-line package is fully customizable, pricing wise. Owners can just choose to have the exterior treatment, which is priced at €1,295 or €1,105 in Germany for the Comfortline and Highline models, respectively.
If you want the full package, you can get it for €2,295 for the entry-level specs and €1,800 for the Highline.
4. Photos
Check out the imgages of the 2017 Volkswagen Golf with the R-Line package in the gallery below: