4 Things to Watch Out For in the Aston Martin Vanquish S Volante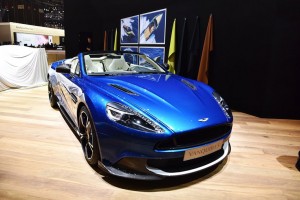 The Aston Martin Vanquish S Volante is out. The car debuted at the 2017 Geneva Motor Show.
Here are the four important things we found out about the convertible:
1. Exterior
The Aston Martin Vanquish S Volante is based on the Vanquish S coupe that its maker revealed at the Los Angeles Auto Show in November last year. Many design elements of the coupe were carried out to the convertible.
The aerodynamic parts of the car's body receives a couple of updates. The auto also gets new quadruple exhaust tips. The suspension of the convertible is enhanced too with its spring rates raised by 10% all round and its dampers reconfigured to deliver better balance.
2. Interior
The Aston Martin Vanquish S Volante's interior surfaces are covered in high-end leather with satin finish and carbon fiber accents. In addition, the automaker lets buyers further add a dash of opulence in the cabin of the vehicle with their high-quality leather referred to as "Bridge of of Weir Caithness leather." For those who want more, they can always turn to the customization options of Q by Aston Martin.
3. Engine
Within the Aston Martin Vanquish S Volante is a 5.9-liter naturally-aspirated V12 engine. The unit capable of producing up to 580 hp. The power of the car is distributed via an 8-speed manual transmission gearbox that allows faster shifts and smoother transition at low speeds.
The automaker had not released details yet about its new convertible's accelerate time from zero to 62 mph as well as its top speed. It should be noted though that its coupe version can do that in just 3.5 seconds while its max speed is at 201 mph. The Volante is expected to reflect figures close to the mentioned numbers.
4. Price
The cost of the Aston Martin Vanquish S Volante is yet to be announced. As a reference, the coupe counterpart of the car has a starting price of $294,950.
Photos
See the photos of the Aston Martin Vanquish S Volante at this year's Geneva Motor Show in the gallery below: