4 Things We Can Learn From The 2018 BMW X5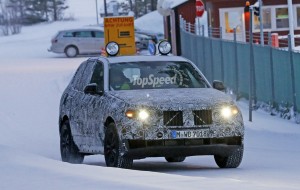 In 2000, BMW finally joined the fray of crossovers with the BMW X5. It has spawned four other crossovers, and has been through three different generational changes. The first one was in 2006 with the E70 X5 for a 2007 model, then the next in 2013 with the current F15 generation.
Based on calculations, it's about time for us to get another generational update from the BMW X5. We've seen spy shots of the new X5 from TopSpeed, and we can't wait to learn more about it.
1. Exterior
The spy shots did not reveal much about the exterior of the new X5. Although it's clearly BMW's crossover, there are no side skirts, a minimal front fascia, and a pair of headlights that look like it came from a 2000 model.
From the sides, the body line along the doors and fenders looks and feels like the current X5. The lower body lines on the doors may be carried over to the production model, but we'll have to wait and see. Like the rest of the exterior, there is no significant change on the rear, except that those taillights would definitely be a departure from the current generation X5.
2. Interior
What we can expect from the new model is that it will be more comfortable and will be packed with new tech and safety features. The probably upgrades are: softer leather seats with better padding, a different instrument cluster layout (maybe even a TFT display), and a thinner infotainment screen.
BMW's 7 Series already had the gesture control down pat, so maybe we'll see that one here, too.
3. Drivetrain
It's still too early to speculate on what the drivetrain would be for the new X5, although we can expect it to have more power and torque than the current 300 horsepower and 300 pound-feet of torque being produced by the 3.0-liter inline six-cylinder.
4. Pricing
The current X5 has a starting price of $54,700 for the sDrive 35i while the range-topping xDrive 50i sells for $71,599. It's pure speculation at this point but based on the additional upgrades, the X5 might sell for $2,000 more than the current base price.