4 Things We Learned About The 2020 BMW 8-Series Gran Coupe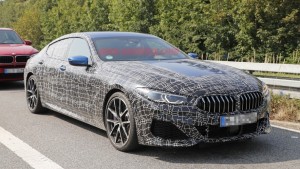 After we have spotted prototypes for the BMW 8-Series Convertible, we are now being treated to some spy shots of the 8-Series Gran Coupe. By the looks of it, the Gran Coupe is more likely to be a sedan than an actual coupe. This model is due to fill the gaps that the 6-Series Gran Coupe will leave after it gets phased out by the German automaker.
Exterior
We know a little bit about how this car will look, thanks to the M8 Gran Coupe concept unveiled in March. We can also expect an M8 version to be launched with the regular one. Just like the 8-Series coupe, the Gran Coupe will have a low roof and wide, muscular shoulders, which may mean an option for a three-seat bench in the rear.
Interior
We expect nothing less from BMW when it comes to cabin elegance and luxury. The digital screens serve as instrument cluster and the entertainment hub. Right smack on the center console would be a gear lever and a rotary-dial controller. There will be plenty of technology, of course, but the German brand hasn't let us on it yet. If you want to know what to expect from the Gran Coupe's cabin, take a look at the previously revealed 2019 M850i xDrive coupe's interior.
Platform
BMW will use the CLAR modular platform that started with the 2016 7-Series. The multi-material design of the platform is meant to shed weight, but the Gran Coupe might still be a tad heavy compared to others. The coupe weighs 4,478 pounds in the M850i disguise, so the Gran Coupe will likely be heavier. This CLAR platform will also make the car compatible with electric powertrains.
Engines
We have no details on the engines that would be offered but expect the same 4.4-liter twin-turbocharged V8 found in the M850i coupe. That one makes 523 horsepower. There might also be an option for a 3.0-liter turbocharged inline-6 and the M8 will get M850i's V8 engine with over 600 horsepower. We also expect that a plug-in hybrid will be introduced.
Check out the new spy shots of the upcoming BMW 8-Series Gran Coupe in the gallery below: