4 Things We Need To Take Note Of Regarding The SsangYong Musso Pickup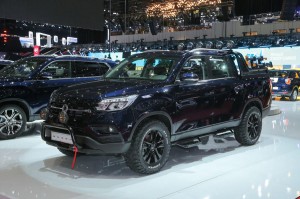 South Korean brand SsangYong brought their new Musso pickup to the 2018 Geneva Motor Show not to compete with the Fords and Chevrolets of the truck segment, but to carve a niche of its own. Musso is the same name being used by the brand for its line of affordable SUVs, which is literally sending a message to the truck enthusiasts out there that the Musso will be cheaper compared to a Ford Ranger and a Chevy Silverado.
1. Design
The Musso is similarly designed to SsangYong's Rexton SUV since they both use the same architecture—body-on-frame construction made out of high-grade steel. It has tones of useful features and functions like a load deck with a rear that folds flat, giving tons of space to the owner.
2. Interior
What you'll find inside the SsangYong Musso is exactly what you'll expect from a South Korean automaker. The design is pristine and everything is well-appointed—from the dashboard to the connectivity functions. The dashboard, in particular, hosts a mounted eight-inch touchscreen that comes standard across the whole range. The tech suite includes DAB radio, Bluetooth, and MP3 connectivity. For the higher variants, there's an option for Apple CarPlay and Android Auto.
3. Powertrain
Under the hood, the SsangYong Musso is quite impressive. The powertrain is being headed by a 2.2-liter turbo diesel that can now churn out 181 horsepower and 310 pound-feet of torque. This is an increase of 5 horsepower and 15 pound-feet of torque from the e-XDi220 that SsangYong built.
4. Solid Truck
The SsangYong Musso pickup may not be your first choice. It may not even be your second choice, but it brings a lot to the table—everything you would want to have in your pickup truck. That being said, this means that the South Korean brand has the opportunity to carve its very own niche in this tough market.