4 Things You Should Know About The New Ford Bronco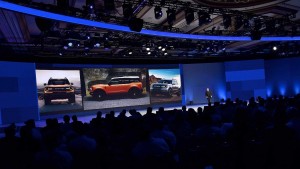 Everyone's excited about the upcoming 2020 Ford Bronco. It took Ford nearly a quarter of a century to come up with a new-generation Bronco and we are eagerly awaiting what's in store for us. So far, we've heard rumors and saw a teaser picture.
The Bronco has always been a cool vehicle though it took OJ Simpson to bring it to a whole new level of iconic. Now that the all-new Bronco is about to arrive, we are sure of two things only: this will be a staple of American off-roading culture and the Jeep Wrangler Unlimited will finally have a competition.
1. It will use the same architecture of the Ranger.
Ford will use a short wheelbase version of the T6 platform. This will allow them to create and develop a vehicle that will be perfect in any market. The T6 architecture can be found in the Ranger, the Everest, and the Troller. It is a body-on-frame type of architecture that can support a number of different body styles with the same wheelbase underneath. The chassis of the T6 is also the perfect size for the new Bronco, which in size, will fall somewhere between the Explorer and the Expedition.
2. It might have a three-door off-roader version.
There were many rumors in the past that the new Bronco is going to be like other conventional SUVs—a five-door vehicle with a spare tire that clings on the back door. But one of the recently released teaser photos hinted that it will be a three-door off-roader. The nod to the classic is not lost on us and we're a sucker for the traditional.
3. It will be available in 2020.
That's two more years of waiting before we can get our hands on the new Bronco. The 2019 Detroit Auto Show should be where the Bronco will be unveiled so watch out for that next year. The 2020 Bronco will have an estimated starting price of $35,000 while the top-of-the-line variants will be in the near $50,000.
4. It will be made in the USA.
Ford is very proud of the fact that the Bronco will be 100-percent USA. It will be assembled at the Michigan Assembly Plant next to the new Ford Ranger. Ford has already readied the facility, pouring in a staggering $850 million to retool the plant for the production of the new vehicle.