4 Things You'll Want To Know About The 2017 Renault Alpine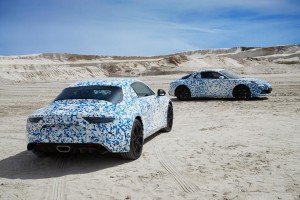 The Renault Alpine won't be coming to US shores. It will be strictly for the European market only, though how far into Europe, we still don't know, too. If you will remember, in 2012, Alpine and Caterham partnered to develop a platform that can be used for future Renault Alpine and Caterham sports car.
While Caterham dropped the plans, Renault pushed through with it. The 2017 Renault Alpine is possibly the prototype for the sports car that's about to come.
1. Identical To Alpine Vision And Celebration Concepts
Renault unveiled in the past couple of years two concepts—the Alpine Vision and the Celebration. The spy shots confirmed that the prototype looks very similar to these two concepts. The similarities can be seen on the lines on the hood, the headlight arrangement, and the tri-panels on the side windows.
This prototype is clearly reminiscent of the Alpine.
2. Might Be Called A120 Or AS1
There is still no confirmation, but there are rumors within the auto industry that the sports car will keep with the tradition and will call itself the A120 or the AS1. The A120 is a "throwback" to the Alpine A110 Berlinette that came out between 1961 and 1977.
3. Competition Is The Alfa Romeo 4C And Porsche 718 Cayman
What's a sports car without competition? Renault's Alpine sports car will have heavy competitions against the Alfa Romeo 4C and the Porsche 718 Cayman. It is likely that it will have a rear-wheel drive that is paired with a turbocharged inline-4. It should be able to produce 270 horsepower that will allow it to go 0-60mph in under five seconds.
4. Production Will Be In France
Unfortunately, not only is the production going to be in France alone, this won't also be shipped to the US. Renault's Dieppe plant in the north of France was recently retooled to be able to handle the assembly of the chassis and body of the Alpine sports car.