5 Cool Things About the 2019 Aston Martin DBS Superleggera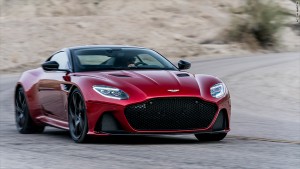 Aston Martin is retiring the Vanquish S, and it's being replaced by a badge that goes back to the late 1960s, the DBS Superleggera. The Superleggera will be Aston Martin's new flagship grand tourer.
For the 2019 model year, the DBS Superleggera is lighter and more powerful. It only weighs 3,733 pounds, shedding at least 160 pounds from the DB11. The exterior styling is aggressive with its low stance, making it look almost like a supercar.
1. Exterior
The overall design of the DBS Superleggera is inspired by the DB11 with an aggressive front fascia, a big honeycomb grille that covers the entire bumper, and triangular outlets at the far corners. The taillights are slim and they have a sporty design on them.
On the side, the DBS Superleggera is muscular and organic. The side skirts are wide and aggressive and the deeply sculpted dent under the door complements that. Finishing off the look is the roof that is finished in black and the multi-spoke, lightweight wheels.
2. Interior
The DBS Superleggera is using a new layout for its interior. It is almost identical to the DB11 as it has the same organic dashboard with the inclined A/C vents, big infotainment display at the top, and two rectangular A/C vents below. The DBS will get the same options on upholstery as the DB11. This means that there will be limitless options of leather, Alcantara, aluminum, and carbon-fiber trim.
As for the tech, the new DBS will get a new satellite navigation system, a premium audio system, auto-park assist, and a 360-degree camera, among others.
3. Performance
The DBS Superleggera will be powered by a twin-turbo, 5.2-liter V-12 engine that produces 715 horses and 664 pound-feet of torque. That's an increase of 123 horsepower and 119 pound-feet of torque from the outgoing Vanquish S.
4. Prices
The Superleggera will likely have a starting price tag of $304,995 in the US. Deliveries should start by the third quarter of 2018.
5. Competition
The DBS Superleggera will give the Bentley Continental GT and the Ferrari 812 Superfast a run for their money.