5 Key Features of the Alpine A110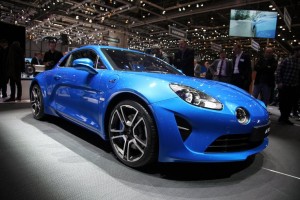 The new Alpine A110 was recently unveiled at the 2017 Geneva International Motor Show. The sports car is its maker's response to the Porsche 718 Cayman.
So, should Porsche be worried about the new 718 rival from Renault's Alpine sports car brand in the form of the A110?
See the five key features of the Alpine A110 here to decide for yourself if it is indeed a worthy adversary to the Porsche 718:
1. Engine
The Alpine A110 is a mid-engined sports car. It houses a 1.8-liter turbocharged four-cylinder engine. The output of the unit is 249 hp with 320 Nm of torque. The power is directed to the rear wheels and distributed through a seven-speed dual-clutch gearbox.
2. Performance
The Alpine A110's engine output may be lower than the Cayman S by around 50 hp. However, thanks to the lighter body of the A110, it can outrun the Cayman S from a zero to 62 mph sprint.
Alpine claimed that its sports car can achieve that kind of run in just 4.5 seconds. Then its top speed can reach up to 155 mph.
3. Exterior
The A110 carries the styling found in the Alpine Vision Concept that came out in 2016. Based on the photos of the A110 and the Vision Concept, everything seems to be similar in the design of the two. The lighting system appears to be updated to incorporate the latest tech of Alpine plus the wheels offer a new look though.
The A110 has that retro-futuristic approach in its design. It still possesses the classy A110 "Berlinette" genes but it combines with it a 21st century detailing found in its concept version.
4. Interior
The A110 gets a mix of high-end leather, aluminum and carbon fiber trim in its interior surfaces. The materials used and layout of it its seats, dashboard, controls, steering wheel, foot pedals and other parts inside once again follow the car's concept form last year.
5. Arrival
The car is expected to arrive late this year or in the early part of 2018. Its starting price is estimated to be at least £60,000.
Photos of the Renault Alpine in Geneva
Check out the gallery below for the official pictures of the Renault Alpine at the 87th Geneva Motor Show: