5 New Features Of The 2017 Toyota Kluger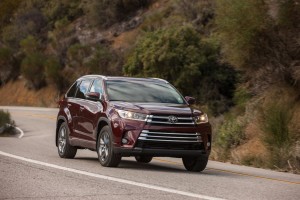 The Toyota Kluger has been updated for the 2017 model year. Set to arrive in Australia this February, the Japanese automaker fitted the Kluger with more style, a new set of standard features, and a boost in power and fuel efficiency.
All of these can make the Kluger one of the better bets in its segment.
1. Powertrain
The engine will remain the same: a 3.5-liter petrol V-6, though Toyota now added a direct injection for the engine and a new eight-speed automatic transmission. Owners will also get to choose between a front-wheel or an all-wheel drive. Similar to before, the Kluger is available in three model grades: the GX, the GXL, and the Grande.
The direct injection will pump up the power to 218kW and 350Nm from the previous 201kW and 337Nm. Fuel consumption is better at 9.1L/100km for the two-wheel drive GX up to 9.5L/100km for the all-wheel drive Grande.
2. Interior
The Kluger will enjoy enhanced interior features, thanks to premium materials and metallic touches. On top of that, the Grande, the top of the line, will be receiving a blue LED ambient lighting.
GXL owners will get a new 8.0-inch touchscreen audio system with navigation, DAB+ digital radio and power, and a power tailgate with an independent-opening glass hatch.
3. Safety Features
The good thing about this refresh is that the new safety features come standard to all Kluger variants. That means the three model levels will receive the following: seven airbags, reverse parking sensors, rear view camera, electronic traction and stability control, and ABS brakes with brake assist and electronic brakeforce distribution.
The Grande will have an additional—rear cross traffic alert, lane departure warning with steering assistance and sway warning.
4. Exterior
On the outside, you will notice some new designs on the grille and the new alloy wheel that comes in 18 inches for the GX and GXL, and 19 inches for the Grande.
5. Pricing
Pricing will be revealed during the model's launch next month, though we're seeing a $40,000 price tag here.