5 Reasons We're Looking Forward To The 2019 Ford Ranger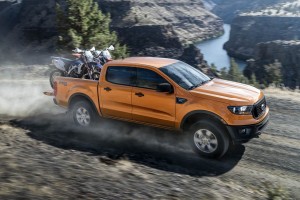 After a seven-year hiatus, it looks like Ford is back in the midsize truck segment. The 2019 Ford Ranger is no F-150, but it will do just fine to battle it out with the likes of the 2019 Ram 1500 and the Chevrolet Silverado, which, like the Ranger, made its debut at the 2018 North American International Auto Show in Detroit.
1. Exterior
The 2019 Ranger will be offered in three trim packages and uniquely, two appearance packages. Let's talk about the trim packages first. The base XL will be produced for fleets, contractors, and anyone who focuses on function rather than form. The mid-grade XLT has more features and it doesn't look like a work truck. Finally, the Lariat trim is for those looking for everything—luxury, form, ability, etc.
Surprisingly, Ford is not offering a Platinum or Limited trim model to compete with the GMC Canyon Denali. As for the appearance packages, the 2019 Ranger can come in Sport or Chrome packages. There are also two sizes—the SuperCab (extended cab) and the SuperCrew (crew cab).
2. Interior
The super sleek exterior is just about right with what we're going to find once we go inside. The 2019 Ranger has a dashboard similar to Global T6 Ranger with an 8.0-inch SYNC 3 infotainment system wherein you can control such features as the Ford+Alexa connectivity and the optional B&O sound system. The gear shifter is console mounted and Ford wouldn't disappoint you with its optional FordPass 4G LTE Wi-Fi hotspot for 10 devices.
3. Drivetrain
The powertrain is irresistible. It comes with a single engine for now, the 2.3-liter EcoBoost 4-cylinder that is similar to the one used by Mustang. The engine is paired with a 10-speed automatic transmission that is standard across all devices. There is an option for either a rear-wheel drive or an all-wheel drive, as well as for an electronic locking rear differential.
4. Safety
Every 2019 Ranger will come standard with Automatic Emergency Braking. The XLT and Lariat trims will come equipped with Lane Keeping Assist, Lane Departure Warning, a Reverse Sensing System, and Blind Spot Information System with trailer coverage. Those spending their money on the Lariat trim can also opt for the Pedestrian Detection and Adaptive Cruise Control.
5. Pricing
Expect the Ford prices to be somewhat near its competition. The base XL will most likely sell for $23,000 while the Lariat can have a price tag of $42,000.