5 Things About the SsangYong XAVL Concept SUV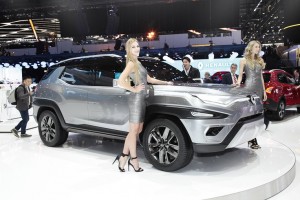 Korean automaker Ssangyong just unveiled its concept sport utility vehicle at the 87th Geneva International Motor Show. The company calls it the SsangYong XAVL concept.
Here are the top 5 things about the SsangYong XAVL concept that should capture your interest:
1. About the Name
According to Caradvice, XAVL stands for "eXciting Authentic Vehicle Long". The concept vehicle is the brand's entry to the mid-size SUV segment in the market.
2. Design
The concept SUV measures 4,630 mm long, 1,866 mm wide and 1,640 mm tall. The vehicle's wheelbase is at 2,775 mm. The auto carries over the designs of the 2016 SIV-2 and LIV-2 concepts that preceded it.
The cabin of the XAVL can accommodate up to seven passengers. Earlier pictures of the auto released by its maker showed a minimalist approach to its interior design, which is typical to all mid-size SUVs in the market today.
The XAVL bears a sense of ruggedness in its stance, thanks to its sharp body lines, curves, aggressive bumpers and nose, slim lighting system, plus flared wheel arches.
3. Engine
SsangYong revealed that the production version of the concept SUV will carry two engine trims. One is a 1.6-liter turbo-diesel and the other is a 1.5-liter petrol unit. The power of the vehicle will be channeled to an all-wheel drive system and distributed via a six-speed manual or six-speed automatic gearbox.
4. Tech
The SsangYong XAVL will house updated navigation, climate control and infotainment systems. The source claimed that its infotainment system will even allow its user to access with their smart home appliances remotely such as the CCTV, security and air conditioning units.
5. Arrival
The production version of the SsangYong XAVL is expected to hit the market before the decade ends.
Photos
Check out the official photos of the new SsangYong XAVL concept SUV during the 2017 Geneva Motor Show in the gallery below: