5 Things to Expect From the Mercedes-Maybach G650 Landaulet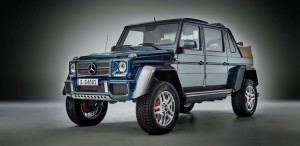 After the revival of Maybach, now as a sub-brand of Mercedes-Benz known as Mercedes-Maybach, it used to focus only on the S-Class. Later on, a concept car exclusive to that name was released.
Recently, it was revealed that the G-Class is also getting the same treatment. The Mercedes-Maybach G650 Landaulet will be introduced at the 2017 Geneva Motor Show in March.
It should be noted that Mercedes-Benz teased the landaulet around two weeks ago. But shortly following the teaser image came a leak of the vehicle without any camouflage, which probably forced its maker to prematurely unveil the auto before it even reached Geneva.
Here are the 5 major features of the new Mercedes-Maybach landaulet:
1. Design
The Mercedes-Maybach G650 Landaulet follows the styling cues of the Mercedes-AMG G 63 6×6 and its successor, the Mercedes-Benz G 500 4×42. However, the hard roofing in the rear portion of the vehicle has been replaced with a retractable fabric roofing to allow the passengers to enjoy an open air ride.
2. Measurements
The Mercedes-Maybach G650 Landaulet is 5,345 millimeters long with 3,428 millimeters wheelbase and it is 2,235 millimeters high. It has a ground clearance of nearly half a meter.
3. Capacity
The G-Class landaulet from Mercedes-Maybach can accommodate up to four passengers. The rear seats can be fully-reclined for the utmost comfort of its occupants. Aside from the high-end leather surfaces of the auto, it also has massage functions and neck-level heating system.
4. Engine
The Mercedes-Maybach G650 Landaulet carries a V12 biturbo engine like the Mercedes-Maybach S-Class models. The output of the unit is 630 hp with 1,000 Nm of torque. Mercedes-Benz claimed that the vehicle has a combined fuel consumption of 17.0 l/100 km and its combined CO2 emissions is 397 g/km.
5. Exclusivity
The G-Class Landaulet under Mercedes-Maybach will only be produced in 99 samples to keep its exclusivity.
Photos of the Mercedes-Maybach G650 Landaulet
Check out the photos of the Mercedes-Maybach G650 Landaulet in the gallery below: