5 Things To Get Excited About The 2017 Bentley Continental Supersports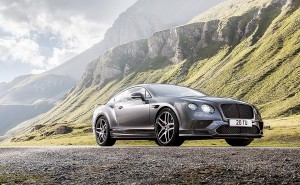 What's even better than having a Bentley Continental? A Continental Supersports, that's what. Bentley had just taken the covers off its Continental Supersports, which is slated for the 2017 model year. This is the automaker's most powerful and fastest four-seater luxury car.
Here are the top features of the new Bentley Continental Supersports:
1. Speed And Power
Let's talk about speed first, since this is what Bentley has been boasting about the Supersports. The Continental Supersports packs a massive 6.0-liter W12 engine that produces 700 horsepower and 750 pounds-feet of torque. That is 70 horsepower and 130 pounds-feet of torque more than what it currently churns out.
That power can boost the Supersports from 0 to 60 mph in just a matter of 3.4 seconds, or so Bentley said. This has never been tested. With the convertible, that time stretches to 3.7 seconds. Still, not bad, right? Top speed is 209 mph for the coupe and 205 for the drop-top convertible.
Worried about braking on time? Don't be. The Supersports' braking power is coming from a 16.5-inch carbon-ceramic brakes at front and 14-inch brakes at the rear.
2. Additional Power
Thanks to higher-capacity turbochargers, as well as a revised intercooling system, the Supersports' engine can handle more power. Standard to both the coupe and the convertible is an 8-speed automatic transmission. Really, this is the only one available. The suspension has also been lowered to keep you on the 200 mph cruise.
3. Design
The coupe and the convertible will benefit from the new design—new front- and rear-bumper designs with carbon-fiber splitter and diffuser, new side-sill extensions, carbon fiber-finished hood vents, and gloss black front wing vents. As for the convertible, drivers can expect neck warmers for cool weather conditions.
4. Aerodynamic
One of the options you have for the Bentley Supersports is a titanium exhaust system. Having this will lower the curb weight of the Supersprots by 10 pounds, putting the coupe at 5,027 pounds and the convertible at 5,412 pounds.
5. Exterior And Interior
Personalization is one of the benefits of owning a Supersports. The X Specification pack has eight duo-tone paint treatments and carbon-fiber heel plates and mirrors. It finishes it off with 21-inch forged wheels.
Inside, you can expect everything to be in carbon fiber, leather, and suede.