5 Things To Know About The 2017 BMW X7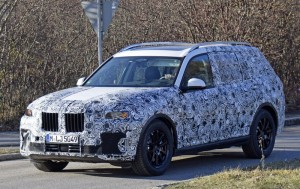 We know that BMW wants to be at the top of everything, but we didn't know they would eventually dominate the hauler segment of vehicles. The X7 is one such example. Although the production hasn't started yet, it will surely come out ready once BMW is done with it.
While it's likely that the X7 will debut for the 2019 model year, that doesn't stop us from speculating what's underneath that camouflage we saw in the spy photos. The BMW X7 was caught testing again recently under the cold weather conditions of Sweden.
1. Exterior
The X7 will be particularly similar to the X5, though it's a bit bulkier, has a more imposing appearance, and has a proper third-row seating. It also has a more muscular looks, thanks to its larger wheels and massive kidney grille. The headlight design we saw on the X7 is the same one on the brand new 7 series. As for the bumper, it will be similar to the company's design language.
2. Interior
Combine the X7 and the new 7 series, and you'll get an idea of how the X7's interior will look like. Alcantara leather will cover most of the interior that's not made from wood or metal. It uses state-of-the-art technology, including BMW's iDrive 5.0 touch display and gesture control. It also has the Touch Command Tablet, which will allow passengers to control HVAC temperatures, infotainment, and the audio system.
The third-row seat will be optional because buyers can choose to have more legroom and a larger trunk.
3. Drivetrain
Under the hood, nothing is so special with the X7. It will use BMW's 3.0-liter inline-six and 4.4-liter V-8. The turbo can produce 320 horsies and 330 pound-feet of torque while hitting 60 mph in less than six seconds. It has a top speed of 130 mph.
The V-8 will be able to churn out 445 horsepower and 480 pound-feet of torque to reach 60 mph in less than five seconds.
4. Prices
The X7 will probably be the most expensive of the X series. Although there is no official word yet, we're assuming that this will retail with a starting price of $70,000. The range-topping model should exceed the $85,000 mark.
5. Competition
As for competition, the X7 is looking to battle it out with the Mercedes-Benz GLS and the Cadillac Escalade.