5 Things To Know About The 2019 Porsche Cayenne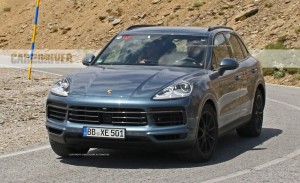 Spy shots of the next-generation Porsche Cayenne, which is slated to be a 2019 model, shows why the midsize truck remains to be a strong contender in this segment. Though the camouflaged Cayenne revealed few details, it's enough to get experts excited about this high-riding crossover.
1. Appearance
Based on the spy shots of the auto featured in CarAndDriver, there are changes in the front grille, as well as the lower fog-light windows that are wider and now feature a full-length slat. The headlights have been covered, but it might be safe to assume that it will use Porsche's four-LED cluster—the same one used in the rest of the lineup.
The rear showed that Porsche is ready to take the Cayenne to a sportier aesthetics because there might be a full-width light bar connecting the taillights. That would give this car an overall wider appearance and stance.
2. Platform
This new Cayenne is expected to be on top of Volkswagen's MLBevo platform, the same one used by the Audi Q7 and the Bentley Bentayga. It will also be utilized on the Volkswagen Touareg and the upcoming Audi Q8 and Lamborghini Urus. The lightweight dynamics of this new platform will contribute to Cayenne's ability to shed off at least 200 pounds.
3. Powertrain
The powertrain lineup on the all-new Panamera should give huge expectations on what can be found under the Cayenne's hood. The turbocharged V-6 engine will most likely be the powertrain of choice for the entry-level Cayenne. The S and GTS version should be using a twin-turbo six while the Turbo model might come with the V-8. It will share Panamera's plug-in 4 E-Hybrid powertrain too, combining a twin-turbocharged V-6 with an electric motor.
4. Competition
The Cayenne, once it is released, will go head-to-head with some of the most powerful midsize luxury crossovers in the market—the BMW X5, the BMW X6, the Range Rover Sport, the Mercedes-Benz GLE-Class, and the Maserati Levante.
5. Release and pricing
The next-generation Cayenne will probably be unveiled at the Frankfurt Auto Show later this fall, with deliveries to begin early next year. Prices will be similar to the current generation's tag.