5 Things To Know About The New BMW Z4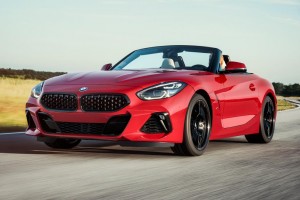 The new BMW Z4 is scheduled to be released next spring and by the looks of it, the Z4 will bring a storm over. Developed in tandem with the new Toyota Supra, the Z4 is every bit similar to the prototype that was seen at the Pebble Beach event last year.
Though the two models will emerge from the same process, they could not be different: the BMW Z4 will be a convertible-only model while the Toyota Supra will be sold as a coupe.
The Z4's looks and proportions are very similar to the concept previewed last year. There's a short overhang at the front end and a visible decrease in wheelbase compared with the outgoing Z4.
1. It Has A Fabric Roof
The new Z4 will make use of a fabric roof, foregoing the aluminum hard-top of the outgoing model. The fabric roof can open and close in 10 seconds flat, and it was chosen to be one of the new Z4's main features on grounds of complexity, cost, and weight. The new car's total curb weight will be 50 kg lighter than its predecessor. That will give the car better aerodynamics power.
2. The New Lightweight Configuration Speeds Up The Car
At 50 kg lighter, the new BMW Z4 can go from 0 to 62 mph in just 4.6 seconds. That's largely thanks to a 3.0-liter straight-six petrol engine that produces 340 horsepower. Other powertrains in the lineup include a 2.0-liter four-cylinder petrol, at least one more version of the straight-six unit, a plug-in hybrid version, and a fully focused M version.
3. Its Cabin Has BMW's Cockpit Layout
The cabin of the Z4 will show an evolved version of BMW's cockpit layout. It would prominently feature a newly designed digital instrument panel and a "fared-in" infotainment system. The iDrive rotary controller is positioned on the center panel beside the controller.
4. Arrival
The Z4 will be on sale in the UK next spring.
5. Price
We expect the price range to be between $38,000 and $62,000.